Pulished on May. 21, 2020
UHMWPE Pipes are used as sand suction pipes and in the dredging and dredging industry. UHMWPE Pipe Manufacturers introduced the advantages of UHMWPE Pipes for sand pumping.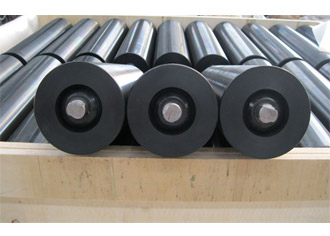 UHMWPE Conveyor Roller Sleeve
1. High wear resistance: Among all engineering plastics, UHMW-PE has the most excellent wear resistance. The higher the molecular weight, the more wear-resistant the material. The wear resistance of UHMWPE Pipe is 7 times higher than that of Q235 steel and 13 compared to silicon manganese. The wear-resistant steel is 2.7 times higher, and the transportation efficiency is improved by more than 20%. Fully demonstrated the excellence of "energy saving, environmental protection, economy and high efficiency".
2. Fast installation: The ultra-high molecular weight polyethylene pipe is light in weight, convenient for transportation and installation, and does not require large-scale mechanical construction, which shortens the installation period. The length of each section of UHMWPE pipe can be selected between 4.5-14 meters.
3. Anti-wave impact resistance: the impact resistance ranks first in plastics, the impact strength is 10 times that of nylon 66, 20 times that of polyvinyl chloride, and 8 times that of polytetrafluoroethylene; especially in low temperature environments, the mechanical properties do not change.
4. High ring stiffness and high tensile strength: able to withstand wind and waves on water.
5. The coefficient of water resistance is low, the friction resistance is small, and the transmission efficiency is high: the inner wall of the ultra-high molecular weight polyethylene pipe is very smooth, and the roughness and friction resistance is very small. The ultra-high molecular weight polyethylene pipe roughness is 0.0065, and the steel pipe roughness is 0.012. Improving transportation efficiency can bring significant economic benefits.
6. Good wear resistance and corrosion resistance: UHMWPE is resistant to strong acids, alkalis, salts, sea water, sewage, and corrosive soil, which can avoid losses caused by corrosion.
7. Non-toxic, odorless, and highly environmentally friendly: Polyethylene material is a certified environmentally friendly material of the country. It is non-toxic and will not be entrapped by microorganisms such as shellfish and fungi in the ocean or sewage. , Will not increase the roughness, to ensure the stability of the medium flow.
8. Extremely low temperature resistance: under -70 ℃, it still has good toughness and extremely high strength, and can be used for a long time in the range of -70 ℃ -80 ℃.
9. Anti-aging property: stable performance, good anti-aging property, can be used on water or on the ground, no aging or brittleness for decades.
10. Good long-term comprehensive benefits and low usage costs: Comprehensive benefits refer to long-term benefits formed by various factors such as construction investment, installation costs, operation and maintenance costs, service life, and energy saving. Ultra-high molecular weight polyethylene pipes have high comprehensive benefits, especially the larger the pipe diameter, the lower the cost.
Our company also has UHMWPE Conveyor Roller Sleeve on sale, please contact us.